Beginners Guide to Sexual Bondage: Tips & Techniques
Posted on: 17 February 2023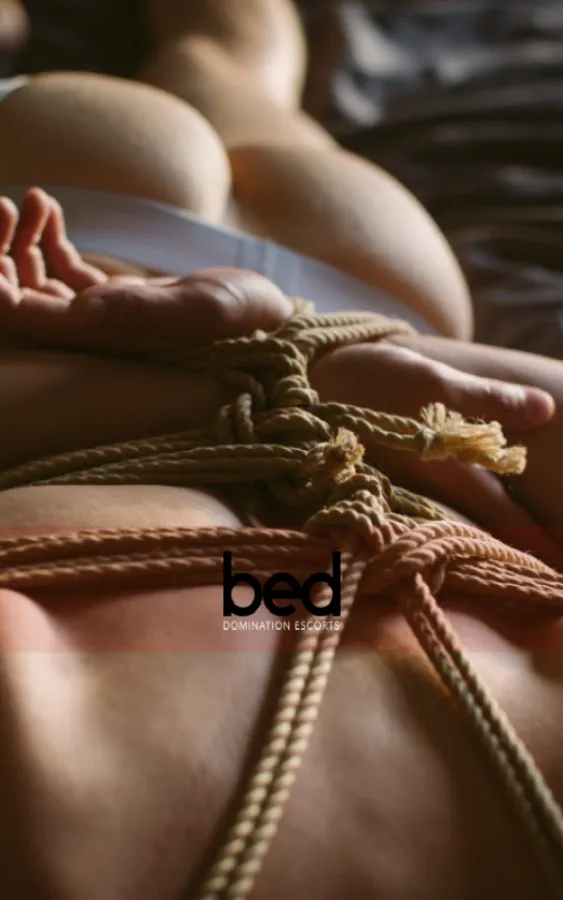 Bondage is one of the wider-known facets of BDSM. However, it is still an aspect of some people's sensuality they have not explored. Often seen as a form of power play, it is designed to be a fun and enjoyable experience where one partner is restrained using physical items such as rope, handcuffs, or leather straps.
It is important to note that bondage is a consensual activity that includes activities such as spanking, teasing, and role-playing. For some, trying for the first time can be intimidating, particularly on a one-night stand or if your partner is uncomfortable with it.
This is where Bed Domination's bondage escorts can help you! Are you looking to explore your bondage fantasy whilst receiving a thrilling and exciting experience? Booking a bondage escort allows you to explore your kinky side in a safe and secure environment with someone knowledgeable about the activities involved.
Once you have a few tips and techniques, you can be sure that your evening will be enjoyable and memorable!
Tips
Start Slow: It's important to start slow and ease into bondage. Don't try to do too much too soon, and make sure to communicate with your partner throughout.
Know the Basics: You should have a good understanding of the basics of bondage before you start. Learn the different types of bondage and the tools necessary to perform it safely. For example, do you want to be restrained with handcuffs or rope?
Talk it Out: Before engaging in bondage, discuss the experience with your escort so that you are on the same page.
Establish a Safe Word: Establish a safe word or phrase that either partner can use if they need to stop or slow down.
Be Creative: Be creative and explore different positions and scenarios. Bondage can be a great way to spice up your sex life!
Techniques
Cowgirl: In this bondage position, the submissive partner is bound in a spread-eagle position while the dominant partner performs the cowgirl or reverse cowgirl position on top of them. Do you want a wild ride? Mistress Loren is the girl for this kind of position!
Tied to the bed: Probably the most famous image of bondage, this often involves being shackled to the bed—with rope or handcuffs. Bed bondage can accommodate different positions, inviting foreplay or stimulation with a vibrator.
Chair bondage Involves tying a submissive's body to a high-back chair. Your legs get shackled to the chair legs, while your arms are generally tied behind the chair's back. Imagine the dominant Mistress Carla riding you or giving you oral whilst you a tied up! A gorgeous bondage escort telling you what to do is the ultimate turn-on, which is why this is such a popular service at Bed Domination!
Standing bondage: While standing, you can be bound behind your upper body and your legs are spread with a spreader bar connecting your ankles to shackles. This position enables your domination escort to approach them from behind for penetration with a penis or dildo.
Rear-entry bondage: This position involves you being bent over with your wrists tied to your ankles by a sensuous escort such as Mistress Paola. Look forward to her spreading your legs so she can spank, penetrate, or perform oral from behind.
Ball tie: Typically, you, as the submissive partner, are bound in the fetal position with your arms and knees tucked into your chest. A ball gag is placed in your mouth, so if you love the idea of being gagged by a gorgeous mistress, trying this technique will undoubtedly get your motor running!
Top Toys for Beginners
Whilst our bondage escorts will already possess the toys you need, or ask for during your booking it is good to familarise yourself with the equipment you can use!
How to Book a Bondage Mistress
Do you like the look of our London bondage escorts? Why wait for pleasure? Book today with our online booking form or contact us at [email protected] or +447809138166.