The Essential Starter Kit for any New Mistress
Posted on: 02 April 2019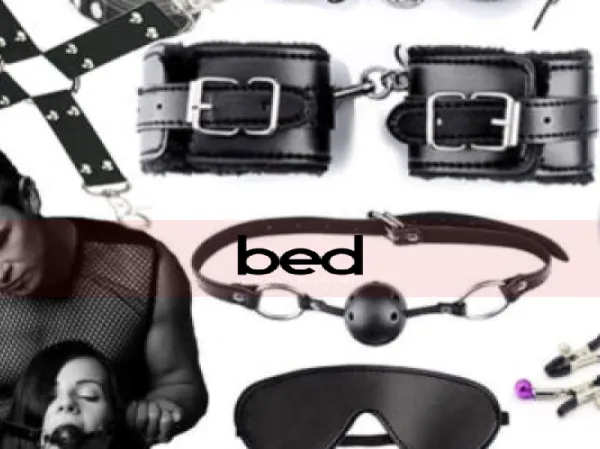 Don't let your Power Play fall Short!
Whether you are meeting a new client or you are interested in exploring your domination fetish, when you become a professional dominatrix your client will have high expectations of you. They are expecting you to know exactly how to treat a submissive. They may be a completely obedient submissive or they may end up being a brat. It is up to you to personalise your treatment of your submissive. That means you need to know all of their safe words, the sort of treatment they want, as well as know what sort of toys and sexual items turn them on.
Once you have established a dialogue with a submissive then you need to know the basics are for domination. The items you have for your encounter will depend entirely on how extreme you and your submissive wish to take your play. So make sure that you are fully prepared with these toys ready on hand in order to please your sub.
Handcuffs
Of Course, if we are going to talk about domination toys, the most common of all toys is the pair of handcuffs. Not only are handcuffs great for vanilla couples and soft play, but they can also be vamped up in order to suit the client. If you are a beginner then you may not want to start with metal or hard-material handcuffs. Clamping these around a soft play sub can intimidate them. One anonymous dominatrix, interviewed in The Cosmopolitan, mentioned that Doms and Subs should
"Always begin with soft cuffs, such as Silicone Quickie Cuffs. These stretchy handcuffs allow you to explore restraints without having to worry about getting stuck."
Once your sub gets used to these sort of cuffs then you may want to consider increasing the strength of your handcuffs. Keep in mind that metal cuffs may end up cutting a person's wrists if they are not protected, and may end up hurting your sub more than pleasuring them. Instead, go for an alternative like Buckle Cuffs or Rope Cuffs. These tend to be easier to use as they rely on knots and the material can feel extremely sturdy when the sub is being restrained. Remember to ask your submissive how tight they wish to be bound. This will keep a level of trust between you both. That way you both can enjoy your play.
Sensual Domination Toys
Not all of your clients will be interested in receiving pain. Instead, they want to be submissive in relation to pleasure. To be teased and tormented when they are inches away from it is something that most Sub/Dom couples thrive on. If your submissive is after this sort of treatment, keep in mind that you will be focusing on the idea of sensation and pleasure rather than humiliation. That is why you will require the right items to tease as well as the patience to draw the pleasure out.
A beginning dominatrix may want to consider using utilising blindfolds, oils, ropes, ice cubes or even feathers. What matters is that the senses are enhanced during the experience. Whether that means that you utilise sensation gels or even just melt slightly warm chocolate to pour on another person, make sure the tools you have will feel different when used on the skin. Even using a whip with a feather end will make the sub feel something new and exciting. That way they will always come back to you for more pleasure.
Ball Gags
If you are dealing with a brat or an extremely rebellious submissive, such as one that keeps on talking when you ask them not to, then you have to have a ball gag within your arsenal. Just keep in mind that playing with gags is classified as a "risky activity." One of the most common styles of gags is "ball gags", some of which have air holes within them so that the user does not choke. However, keep in mind that these gags tend to be used to humiliate the wearer as they can cause drooling, prohibited speech and can distort facial features.
If you want to keep your sub silent whilst remaining safe you may want to consider a Wiffle Gag, which holds a smaller ball that is made out of plastic. This will allow for constant airflow. Other gags may include:
The Butterfly
The Cleave
The Bit
OTM (Over-the-Mouth), aka. The Detective Gag
OTN (Over-the-Nose), aka. The Bandit
The Forniphilic Gag
The Funnel
Harnesses
Inflatable Gags
The Knot
The Layered Gag
The Mouth Corset
The Muzzle
Don't worry if you can't afford a wide array of ball gags. If all else fails you can simply use your hand or cloth that can be tied around the sub's mouth. Just make sure that they can still breath. Safe words/signs are extremely important during this type of play.
Fetish Wear
Of Course, if you are going to become a professional mistress then you need to look the part. Whilst you are welcome to wear whatever you want whilst interacting with your submissive. You can wear black lingerie, but everyone knows that a sexy mistress looks her best in leather. Whether that is a leather or fishnet dress, leather boots or stockings, there is a wide range of lingerie sets that will make you look your best. If you want to take your costumes a step further, you can even find clothes for your submissive to wear. Vibrating underwear is a great way to tease your sub, especially when you know which settings will really excite them.
Vibrators
There is nothing more satisfying than being tickled by a vibrator. The stimulation is great for any man or woman but is even better when you control how much stimulation your submissive will receive from their vibe. Vibration wands are a fantastic way to get started, as they grip easily and the settings are easily changed. However, if you want to use smaller vibes or rabbits, this can allow you a more intimate relationship with your sub, as well as create an extremely powerful buzz. Vibes can be easily transported as they have a discrete sound and shape. Some can just be dropped into a handbag and carried without anyone's knowledge!
Dildos
How can you be a mistress if you do not own at least one phallic shaped object? Dildos are perfect for recreating a phallic shape for the pleasure of the vagina and the anus. These sex toys are fantastic due to their diversity in their colour, shapes, sizes and even built-in vibration function. They can be used for both men and women. This means that whether you are pegging your sub, or just want an effective way of masturbating them, these toys are a great way of getting the job done. Make sure you have at least one dildo in your domination collection. Once you have finished using it then do not forget to clean it. Dildos can be shared but you should always make sure that they are sanitized before use, especially if you are using a harness dildo.
Collars
There is nothing like a collar to remind your submissive who they truly belong to. These collars can be a simple strap, but for those who truly like to look like they are "owned" then they can include a lock and key. For the safest collar play, make sure that there is a "two finger gap" between the collar and the neck. If the collar is too tight, be sure to tell your submissive to tell you about it. As if a collar is too tight then this could damage the neck or cause whiplash.
Lube
Remember, whilst your submissive is allowing you to take control of them, that does not mean that you should treat them too roughly. Unless they are into that, you need to make sure that they feel safe and respected. That is why, if you are interested in any sort of penetration, remember to use lubricant to ease into your partner. Lube is fantastic for sustaining the penetration act and allows for sexual play to last for long. Some lubes come with sensation play, whilst others can also be used for sensual massages. Just make sure to choose a water-based or silicone-lubricant. Oil-based lubricants should be avoided as these can cause breakage in condoms.
Have fun playing with your submissive!
At the end of the day, you are a mistress. You are a Domination Professional that personalises your services based on your clients' needs. That means you can use what you want and do what you want to satisfy them. You are an individual and should wear and use whatever toys you believe are best. Enjoy yourself and make sure that your submissive feels safe and happy when you are playing with them.