Exploring the Different Types of Sexual Bondage
Posted on: 16 August 2023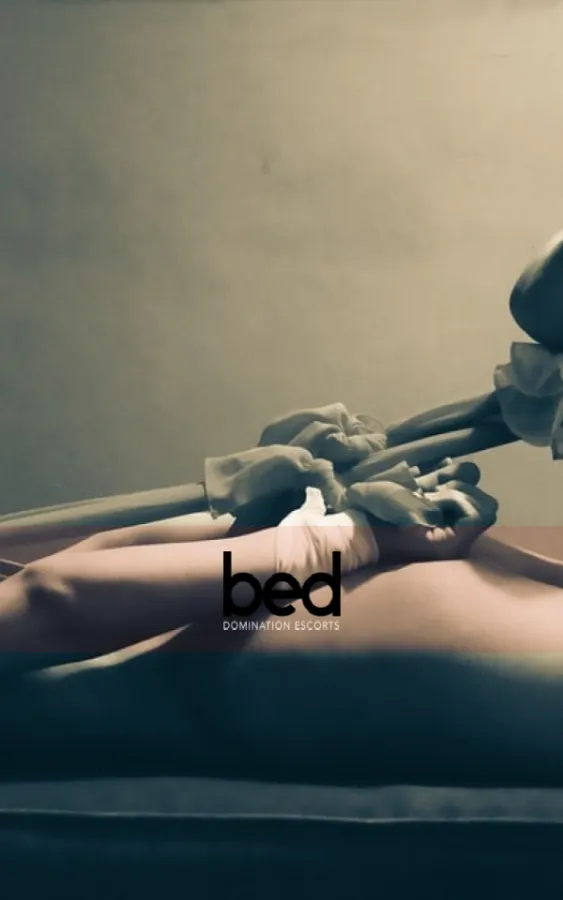 Does the realm of sexual bondage entice you? You're not alone. Bondage, a practice that has captured the hearts and minds of intimate explorers throughout history, is where one individual has control over their partner, often in the form of tying them up or restraining them.
At Bed Domination Escorts, we understand that the art of sensual restraint isn't just about physical ties; it's about exploring the depths of pleasure, pain, and trust. So, strap yourself in as we delve into the different types of sexual bondage, practised by each and every one of our high-class bondage escorts in London. Who knows? You may just find something that awakens the desires that lie within.
Shibari
Hailing from the lands of Japan, Shibari is one of the oldest and most revered forms of bondage, often viewed as a kinky art form that blends aesthetics and intimacy.
Derived from the Japanese word "shibaru," which means "to tie," Shibari is a captivating practice that goes beyond mere restraint. The ties are meticulously placed to favour the figurine of the body, highlighting the most intimate parts and teasing the imagination. As the ropes embrace the curves and crevices, they create a visual spectacle that never fails to excite.
Shinju
In the world of bondage, our love of the bosom finds new heights through Shinju, also known as Breast Bondage. With delicate precision, ropes entwine around the breasts, creating an enticing, decorative tapestry. This technique isn't just about restraint; it's a tribute to the beauty that lies in vulnerability.
The appeal of this type of bondage is clear: the ropes encircle the breasts in an aesthetically pleasing pattern, creating a mesmerizing visual that cat only be described as erotic art. While the ties maintain a gentle pressure, they don't constrict or harm, but if pain is what you're after, you can always make the ties a little tighter.
Sensory Deprivation:
For those who crave the thrill of the unknown, Sensory Deprivation offers a path to uncharted territories. It's a popular type of sexual bondage that removes the familiar senses, shutting out the world and allowing only the most intimate sensations to reign.
By depriving the senses of sight, hearing, or even speech, the individual experiences a heightened state of awareness, where every touch, whisper, or caress is amplified.
The most popular form of this practice is Hooded Bondage, with its concealment of sight adding an element of anticipation and vulnerability to the encounter.
Predicament Bondage:
Looking to embark on a journey into the complex dynamics of dominance and submission? The art of Predicament Bondage isn't about physical pain; it's an intimate blend of emotional and psychological struggle.
How it works is simple. Subs find themselves in challenging poses, poised on tiptoes or tangled in intricate positions. It's this tension of maintaining a position that adds a thrilling layer of anticipation to the encounter, where the struggle is as enticing as the surrender.
Torture Bondage:
Torture Bondage, as the name suggests, is an exploration of the boundaries between pleasure and pain. This form of bondage is a journey of intensity, one where suspensions, intricate positions, and unyielding ties create a tapestry of sensations that push the senses to their limits.
For those who want to take things one step further, why not incorporate different forms of BDSM into your encounter? Cock and ball torture... nipple torture... trampling - whatever works for you, you can always rely on the interplay of pleasure and pain to blow you away.
Chastity Bondage:
Chastity is a journey of anticipation and control, where one partner hands over control of his or her pleasure to their partner. Combine this desire with the art of restraint, and you've got the popular practice known as chastity bondage.
The tension of desire without release is very popular in the BDSM community, and the tools of teasing vary from leather suits and latex to bondage tape and chastity belts. So, if you find the idea of controlling a person's sexuality to be incredibly erotic, this form of bondage is the perfect exploration of power dynamics.
A Mix of Bondage Escorts at Your Disposal
So, it seems sexual bondage is just what you're looking for. Well, luckily for you, our skilled bondage escorts in London are adept at guiding you through these various forms of restraint, ensuring that your desires are met with expertise and sensitivity.
Whether you're a novice or a seasoned explorer, secure the services of your desired London dominatrix today by filling out our simple online booking form. If you would prefer to complete your booking over the phone, you can call us on 0780 913 8166. Your mistress is waiting, so don't take too long.
For more tips and techniques, be sure to read our Beginner's Guide to Sexual Bondage.